Recently I heard a TedX talk (see below) delivered by Nipun Mehta about "Giftivism", a made-up word which he defines as "The practice of radically generous acts that change the world". As a social entrepreneur, he's come up with several novel ways to make money as he practices generosity.
One business venture that he's launched successfully is called "Karma Kitchen", which is a volunteer-run restaurant in Berkeley. People come in for a meal and pay nothing for it. Rather, they give a donation depending on how much they think the next person's meal is going to cost. It's similar to paying for the guy behind you as you're passing through a toll gate. I think it's a pretty neat "pay-it-forward" type of idea.
My wife and I volunteer to teach religious education classes at a local church in Vancouver for many years now. We do it to help young members of our community strengthen their faith. Another way that I try to be useful is by volunteering for new arrivals in the city as a mentor at a non-profit organization. What do I get out of both apart from inner satisfaction, you might be wondering? Well, I've actually gotten business clients in both cases, even though this was never my objective. That's just how the world works: what goes around comes around.
What does this have to do with furthering your career?
Well, asking for a job and offering to render service are simply two sides of the same coin. One is simply more me-centered while the other is more other-centered. Want to know the secret to never having to go thru a formal job interview or submit a resume to an employer ever again? Offer to help people out, whenever you go out the door and interact with others. Find out how you can help make their lives easier. And in both instances, don't expect any sort of compensation or recognition. Simply do it as a way to be useful to the world.
Soon enough, other people will be interested in you and what you do professionally and even be interested in what they can do for you. That's why volunteering around your community generates tremendous dividends not just internally but business or career-wise.
 TEDxBerkeley – Nipun Mehta – Designing For Generosity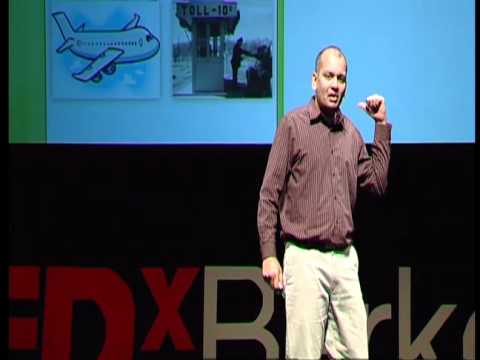 To find out how you can be more successful in your job search, read The Job Farmer for more insights or check out Hunting vs. Farming.
Photo Credit
Toll Gate by Steven Damron Some Rights Reserved
---
Guest Author Bio
George Verdolaga

George Verdolaga is an author, educator and speaker. He helps people get out of their own way so that they can reach their career and lifestyle goals faster and more efficiently via The Job Farmer and The Contractor Lifestyle books and his Sitting Pretty Course.
Read his blog here and be sure to subscribe to his e-Newsletter.
Blog / Website: Verdolaga Learning Systems
Did you enjoy this article?
Please let the author know by leaving them a comment below!
And, subscribe to our free weekly digest!
Simply add your email below. A confirmation email will be sent to you.
Recent Guest Author Articles: