How much beauty do we miss in our rush through life? A famous Washington Post experiment is very revealing.
On a chilly Friday morning in January — in the middle of rush hour at a D.C. metro station — world renowned violinist Joshua Bell participated in a staged experiment to see how hurried commuters would respond to encountering exquisite classical music played on an 18th century violin by (unbeknownst to them) one of the finest classical musicians in the world.
In this creative look into our human habits around context, perception, and priorities, the Washington Post authors of this social experiment were interested in a central question: "Would beauty transcend?"
During the 43 minutes that Bell performed (in street clothes and a ball cap), 1,097 people passed by his location. While a few individuals eventually paused to listen more closely for a few moments, not once did Bell draw a crowd.
A former child prodigy who filled concert halls in the week leading up to the experiment and whose performance time can command as much as $1,000 a minute, Bell counted a total of $32.17 in his violin case at the end of his performance!
What is this life if, full of care, We have no time to stand and stare.
— from Leisure, by W.H. Davies
Each passerby on that Friday morning was presented with a choice: to stop and listen, or to hurry on past to their morning destination. In his full story on the event, Post writer Joshua Bell wonders whether the explosion in technology in recent years has limited, rather than expanded, our exposure to new experiences.
Have we become so used to obtaining our information from familiar, expected sources (we program our playlists and/or tune in to our favorite stations, then plug in our ear buds and tune out everything else) that we don't notice the potential moments of joy and beauty that surround us?
A further question stimulated by the results of this experiment is this:
"If we do not have a moment to stop and listen to one of the best musicians in the world, playing some of the finest music ever written, with one of the most beautiful instruments ever made, then how many other things are we missing?"
Shifting out of "autopilot"' mode
Particularly in challenging times, we often lose sight of and appreciation for the magic and beauty that exists right under our noses.
Here are some suggestions for staging your own social experiment in the coming week(s): see what happens when you begin to pay more attention to the world around you as you go about your daily activities.
Experiment with speed – Does your rate of travel affect the way you perceive and interact with the world? Try purposely slowing down or speeding up and note what you see, feel, and do differently. Has "rush hour" movement become a way of life?
Experiment with keeping an open mind – Notice if and when your mind is swimming with thoughts and try to gently set aside your preoccupations to create more space for noticing the actual circumstances around you.
Experiment with sight and sound – Try taking off your portable sound equipment (MP3 players, etc.), turning off your car radio, setting down your reading material, and playing with new ways to observe your environment. What do you notice when you open yourself up to see things as they are in the moment (vs. slipping into autopilot mode and expecting people and places to be what they've "always" been)?
Expect the unexpected!
Listen to the entire audio recording of Joshua Bell's DC Subway Concert
Watch the video below of Joshua Bell performing the subway…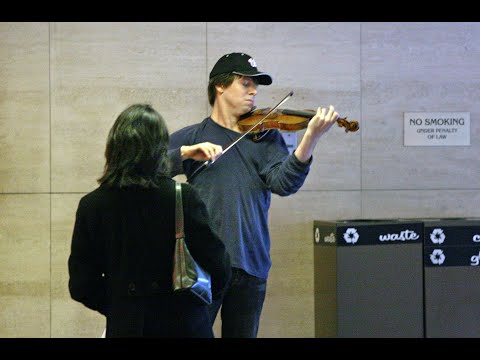 ______________________________________________________________________________________________________________________________________________________________________________
About the author: Steve Goldberg is the co-author of Finding the Upside:  Practical Wisdom for Challenging Times.  You can read more about and purchase the book at:  www.findingtheupside.org
Previously published on July 26, 2009 on http://www.upsidematters.org
Did you enjoy this article?
Please let the author know by leaving them a comment below!
And, subscribe to our free weekly digest!
Simply add your email below. A confirmation email will be sent to you.
Recent Steve Goldberg Articles: