This classic 1972 film is the last of the great musicals. But unlike Singin' in the Rain, My Fair Lady, and West Side Story, Bob Fosse's Cabaret is much more than the sum of its memorable tunes. In fact, Cabaret concocts a rich and satisfying brew of brilliant cinematography, editing, set and costume design, acting, and of course, song writing and performance and keeps it bubbling from beginning to end. It is a film that can be enjoyed on many levels and must be seen several times to experience them all.
Berlin, 1931. The Kit Kat Club is a cabaret that reflects Berlin's free-wheeling, hedonistic culture at its most frenetic, and as yet untouched by Nazi influence. The opening number, "Wilkommen," is a bawdy romp through the world of burlesque, sung by the club's Master of Ceremonies, a strange and compelling character, at once naughty and sexy, and slightly sinister. The club is filled with a cast of bizarre and decadent denizens.
But as the story progresses the Nazi presence begins to make itself felt in the club, as well as on the streets.
The film's main character is a young American, Sally Bowles, who sings at the Kit Kat Club. Sally is an insecure, ambitious, talented, impetuous woman who has no interest in the events unfolding in the world around her—and in little else except her own world of the cabaret, with its booze and sex, and her ambition of becoming a movie star. Early in the film she meets Brian Roberts, a rather straight-laced, repressed bisexual doctoral student from Cambridge. Brian is ambivalent about Sally's world but does seem to be affected by the ominous presence of the Nazis. Yet despite their clearly divergent natures, the two are strangely attracted. Is it because they are both lonely people looking for love? After all, neither seems to have friends; Sally's "practically an ambassador" father is chronically absent from her life, and Brian mentions nothing about family or friends.
Sally later meets Maximilian, a wealthy and aristocratic baron who introduces her to the "divine decadence" of furs, caviar, luxury cars, and attentive servants, and whom, due to his excellent connections, she sees as her key to film stardom. At the same time she yearns for the stability of family, which Brian represents to her, and which her father cannot or will not provide. In the end she gets neither.
In the cabaret, Sally sings first a song that defiantly proclaims her independence and freedom; then she sings "Maybe This Time," a passionate plea for lasting love. Finally, after she aborts the baby she conceived with Brian and casually leaves Brian at the entrance to the train station, she is back in the club singing "Life is a Cabaret," which perhaps indicates that she has come to the point where she recognizes who she really is and is fully prepared to live that way.
The Master of Ceremonies appears to be a bizarre, amoral, and uninhibited creature, but in fact he is the wise fool who sees all, who comments, with humor and wit, on the world outside, on people's foolish behaviour, and on life itself. His world, the cabaret stage, is a metaphor for freedom and tolerance and human happiness. In the opening number he tells the audience: "Leave your troubles outside! So, life is disappointing? Forget it! In here, life is beautiful. The girls are beautiful. Even the orchestra is beautiful!"
But played out on the Kit Kat stage is also a kind of ongoing morality play, in which the dangers of moral collapse are hinted at through song, dance, and broad comedy. At the end of the film, there is a bitingly ironic tone to the MC's words: "Where are your troubles now? Forgotten. I told you so. We have no troubles here. Here life is beautiful.…" The lively opening music of the "beautiful" female orchestra is repeated here, but the notes quickly turn sour. And as he bids the audience "Auf wiedersehen, à bientôt," we know it is the final goodbye for the freewheeling days of the Kit Kat Club, and of Berlin. The camera moves to the audience, which is now dotted with Nazi uniforms, and the film ends.
In the end, Brian returns to Cambridge to continue his studies. We can be fairly confident that Natalya's money and connections will get her and Fritz out of the country; ditto for Max. Sally lacks both wealth and connections, but one suspects that her wit and chutzpah will see her through as well.
There is a subplot in the movie in which the "gigolo" Fritz, a student of Brian, woos the wealthy department store heiress Natalya Landauer, also Brian's student. Fritz has been living a lie since he came to Berlin. First he is hiding the fact that he is a Jew, both for his own safety and for the advancement of his ambitious plans. Second, he is pretending—to himself—that what is most important in life is to be comfortably rich. When Brian tells him about Natalya, he believes that this goal is within sight. However, when he meets her, the little house of cards he has been carefully constructing begins to collapse around him and ultimately, his real self emerges. Fritz may in fact be a reflection of Sally; the scene of Fritz and Natalya's wedding mirrors the scene of Sally singing "Cabaret."
There is not a misstep or a dull moment in Cabaret. The musical numbers alone, brilliantly staged, choreographed, and performed, are worth the price of admission. Liza Minnelli is perfect as Sally; she hits every note on the dramatic scale, from self-pitying little girl, to faux femme-fatale, to brashly confident performer. And Joel Grey is wickedly unforgettable as the MC; he titillates, he shocks, he delights, he admonishes (cutely).
Highly recommended.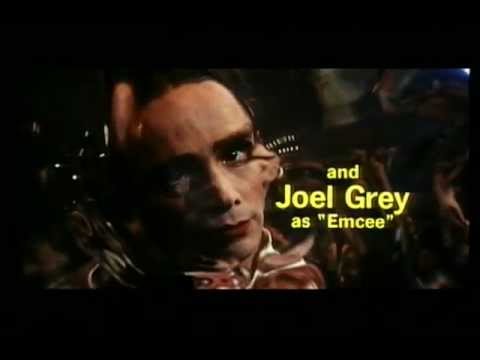 Photo Credits
Cabaret Poster @ Wikipedia
Did you enjoy this article?
Please let the author know by leaving them a comment below!
And, subscribe to our free weekly digest!
Simply add your email below. A confirmation email will be sent to you.
Recent Ross Lonergan Articles: