TED.com is amazing. If you are unfamiliar with the website, it's worth checking out.  With the tagline "ideas worth spreading", the site holds a library of 5- to 20-minute recorded talks, given by a variety of people on a variety of topics—everything from business to technology to global issues to the arts.
I recently watched a talk given by Denis Dutton, titled A Darwinian Theory of Beauty. Dutton actually studies beauty for a living. He explores the philosophy of art and aesthetics in an attempt to understand and articulate what the human experience of beauty is.  Dutton's theory in this talk challenges the longstanding adage, "Beauty is in the eye of the beholder" to posit a deep-rooted evolutionary component to our appreciation of beauty that is evinced in the universality and cross-culturally shared aesthetics of our species.
Evolution involves natural selection and sexual selection.  Natural selection, loosely defined, refers to the favourable adaptive features that are selectively passed on to future generations (on the genetic level of a species).  Sexual selection is the micro aspect of natural selection where we, as individuals, choose to procreate with the fittest of our suitors, which accounts for competition within the mating pool.
Dutton's theory seems to run in parallel with — or rather applies Darwinian principles to — the study of beauty, suggesting first that our sense of beauty is inherited from our ancestors, and secondly, that the production of beautiful things demonstrates the talents/resources/biological fitness of the art work's creator.
Dutton uses the example of the "Acheulian hand axe", a prehistoric artifact carved out of stone that resembles a three-dimensional tear drop. The Acheulian hand axe, named after a discovery site in France, dates back approximately 2.5 million years. According to Dutton, "unlike other pleistocene tools, the hand axes often exhibit no evidence of wear on their delicate blade edges. And some, in any event, are too big to use for butchery. Their symmetry, their attractive materials and, above all, their meticulous worksmanship are simply quite beautiful to our eyes, even today."  This evidence indicates that the hand axes had aesthetic, rather than utilitarian, purposes and are likely the first known works of art.
Dutton points out, "Hand axes mark an evolutionary advance in human history". He compares them to a Darwinian "fitness signal", functioning much like the peacock's tail. "Competently made hand axes indicated desirable personal qualities: intelligence, fine motor control, planning ability, conscientiousness, and sometimes access to rare materials"—qualities that position the individuals displaying the axes at a reproductive advantage.
What is particularly remarkable is that our predecessors creating these works of art were actually pre-language.  In effect, we appreciated beauty before we could name it.
Dutton poetically ends his talk with the thought that beauty is "a gift, handed down from the intelligent skills and rich emotional lives of our most ancient ancestors.  Our powerful reactions to images, to the expression of emotion in art, to the beauty of music, to the night sky, will be with us and our descendants for as a long as the human race exists."
When we look on objects of beauty now, in the present, perhaps our gaze is layered with a kind of ancestral remembrance—prehistoric images collated into genetic memory.
Watch A Darwinian Theory of Beauty…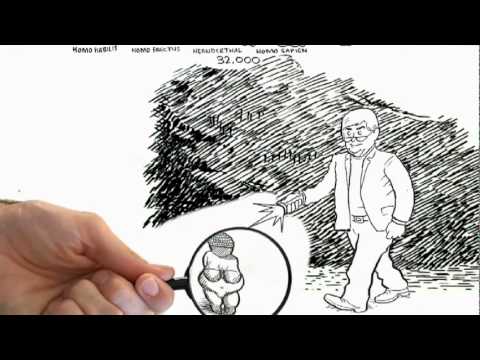 Photo Credits
"Peacock, Kelogg at (and owner of) Kellogg Bird Sanctuary" bill.d @ flickr.com. Creative Commons. Some Rights Reserved.
"Acheulian Hand Axe" Western Sahara Project @ Flickr.com. Creative Commons. Some Rights Reserved.
Did you enjoy this article?
Please let the author know by leaving them a comment below!
And, subscribe to our free weekly digest!
Simply add your email below. A confirmation email will be sent to you.
Recent Katie Paterson Articles: